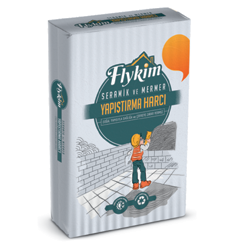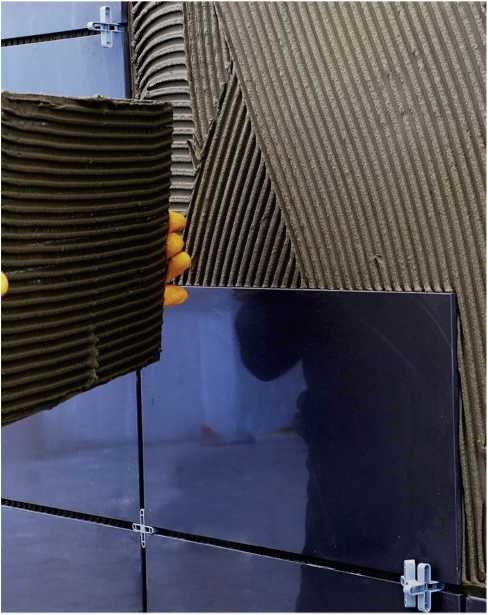 DEFINICIJA:
To je jednokomponentni cementni lepak sa polimerom, za pločice i keramiku. To je praškasti lepak sa dugim vremenom za rad.
PODRUČJA PRIMENE:
* Koristi se na unutrašnjim i spoljašnjim  zidovima i podovima.
* Prilikom polaganja keramičkih pločica na toplotno izolovane ploče kao i prirodnog i neosetljivog prirodnog kamena u spoljašnjim i unutrašnjim stambenim prostorima.
* Kod postavljanja materijala kao što su dekorativne opeke od travertina. UPUTSTVA
* U proseku 6-7 litara od 25 kg FLYKIM-a treba temeljno izmešati odgovarajućom mešalicom sa malom brzinom ili lopaticom kako bi se izbegle grudvice.
* Kada odstoji 5 minuta Flykim treba opet mešati 1-2 minuta pre nanošenja.
* Veličina čelične lopatice kojom se lepak nanosi na površinu određuje se prema veličini keramike koja se postavlja i količini njegovog nanošenja.
UPOZORENJA I NAPOMENE
* Budući da je lepak na cementnoj osnovi, nemojte udisati prah. Nemojte dodirivati kožu i lice.
* Isperite mesta kontakta sa kožom sa puno vode a isto učinite ako dođe u dodir sa očima.
* Držati dalje od domašaja dece.
PRIPREMA POVRŠINE
* Površina na koju se nanosi proizvod mora biti očišćena od  materijala koji sprečavaju prijanjanje kao što su prašina, ulje, smola, katran, boja i silikon.
* Podloga treba da bude čista, suva, glatka i čvrsta.
* Tanak sloj maltera koji je nabubrio na površini treba temeljno sastrugati i očistiti.
* Vrlo porozne površine treba oprati i sačekati da se voda ocedi tako da površina ostane vlažna.
* Nedostatci na površini na koju se nanosi proizvod moraju se ispraviti malterom za popravke.
OGRANIČENJA PRILIKOM PRIMENE
Vreme upotrebe pripremljenog maltera u posudi je maksimalno 3 sata.
* Vreme ugradnje: 20 minuta
* Vreme ispravljanja: 10 minuta
* Vreme potrebno za nanošenje spojeva: 24 sata
* Vreme posle kojeg se može preći preko pločica 24/48 sati
* Između 3 i 10 mm (jednostrano ili dvostrano postavljanje lepka)
USLOVI RADA:
* Temperatura okoline je između +5 i +35 stepeni.
* Ne sme se nanositi na smrznute i površine koje se tope ili površine s opasnošću od smrzavanja u roku od 24 sata.
* Ne sme se nanositi pri jakom suncu, jakom vetru i vruće površine. POTROŠNJA
* 120 cm2 6x6x6 mm jednostrano nanešen lepak.
* 4 kg/m2 dvostruko nanešen lepak: 5-6 kg /m2 od 500 cm2 do 2000 cm2: 10x10x10 jednostrano lepljenje
5,5 kg/m2 dvostrano postavljen lepak 6,5 kg/m2 ALATI ZA NANOŠENJE
* Lopatica, nazubljena čelična gleterica, gumeni čekić
Rok trajanja pri skladištenju
* 1 godina od datuma proizvodnje u suvoj i vlažnoj sredini.
* U slučaju da se ne koristi, otvor na pakovanju mora biti čvrsto zatvoren.
PAKOVANJE: džak od 25 kg